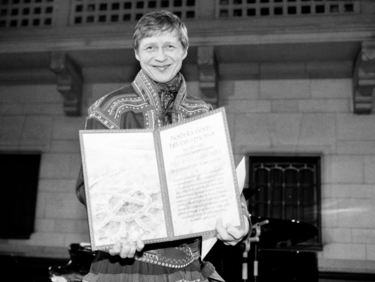 Photo: Kimmo Mäntylä / Lehtikuva / NTB scanpix.
THANK YOU VERY MUCH! Honoured representatives of almost all the peoples of the Nordic countries! Honoured people!
I am a member of the people that in this case are the "almost". It is a disgrace that there isn't anŧ representative of the indigenous northern population. It is a disgrace.
I leave this gift to you (a Sami flag), so that you will remember. So it some day can be taken into its proper use. I wish to thank you for awarding my book Beaivi áhčážan. At the same time you have honoured the indigenous population that is missing here. It would be more important that the rights of indigenous populations, also the rights to land and water, would be recognised. So that they would be indisputably defined in an agreement.
Areas of land are not growing, but the number of people wishing to occupy them are growing. And as long as the Sami carry with them knowledge of Sápmi, such a state of non-agreement can lead to incidents that would not be honourable to the Nordic countries.
Even if submitting to an agreement can be painful, it is irresponsible to allow this state of non-agreement to persist.
At the very least, I want to believe that morality in the Nordic countries is on such a level that it in fact presupposes the acknowledgement of Sami rights. At the very least, I want to believe that the Nordic conscience and the Nordic sense of justice function in a way one can expect from a civilised state.
One cannot even think that an indigenous population should not have its own rights. Native Americans, Tamils, the Baltic states, Kurds, Palestinians...
I cannot believe that an actual peace is possible if there are peoples that carry with them the knowledge of the unacknowledged rights of their people. One can respect oneself only if one respects others and the rights of others.
Love is what I would like to give you, love to recognise yourselves so that you could recognise others.
Love yourselves, so that you can be free to love others.
And I want to thank you for the award you have given me this year. But at the same time you have awarded an author who cannot spell in his mother tongue. I certainly went to school for years, I even received diplomas for my skills in "the mother tongue". But I never received Sami education or education in Sami. In practice it was more the opposite; so that one shouldn't...
The conception of home for the migrating Sami does not fit inside walls. My home is in my heart and it moves with me. All these fells are my home. The place that according to authorities is my home is called Beattet. There is a small cottage there that I find cosy. There I sleep. There I do my chores.
And when I open the door and go out, I get to my living room. Which is big and beautiful. There I can move until I get tired, without even making it any further. But often I have the strength to get at least to Ádjagorsa, in Tarju. To my childhood summer house.
To my childhood and also current friends, the downy birches, the dwarf birches. The reindeer.
The fish. The plants. The animals. And the birds. To a never-ending yoik song that flows from the earth's wellspring. The stones, rocky fells, barren. To a safe embrace, to the lap, to the rock.
The sky as my roof. As the sun in my life, my little father. Dare I say out loud, what my heart is yoiking... without the evil ear hearing, thank you, thanks a lot to my home out there...!
The dreams. Dreams I have. A rich life. I think, that dreams occurred before me. I just know, that as long as I remember, I've dreamt dreams that I have to dream in order for them to be real. Of these dreams, Beaivi, áhčážan was the last.
I know a never-ending sadness, but also an eternal comfort. And dreams, dreams I have, still.
But nowadays I don't have to dream them for them to be real. But my dream The Sun, My Father, I was forced to dream so it became real.
And that dream is my appreciation, it is my promise to the people, to a small part of Arctic nature.
I feel that I have been the favourite child of the Sun and the Earth, privileged because I have my dreams. And I have often thought of how I could thank Life.
Life
the master, the artist, the author, the composer and the conductor, and the world
the master's creation, story, beauty and counterpoint, the game in space, and I,
also I, was allowed to chime and flicker in Life's symphony.
This game is for the time being over on my part. The autumn winds rustle the leaves of my life,
maybe some of them already fly away out there on the fells. But even if it is so,
with great humbleness I am glad, that also I was allowed to chime.
And even if Life should never again play me, on me,
I am grateful because I have chimed.
But if Life still remembers me, and wants to play me, and play to me,
then I want to chime I'm grateful
and I chime too,
chime when Life plays me, in me
from my heart, in my heart
in the course of my days
it chimes,
I chime