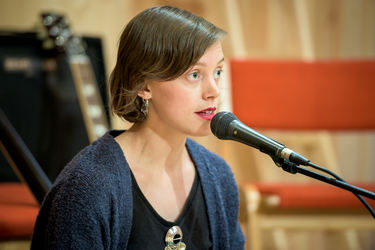 Elina Waage Mikalsen. Photo: Andreas Kalvig Anderson.
Riddu Riđđu Festival wants to make sure young Sami artists develop their talents and are made visible nationally and internationally. Since the late 90s the festival has announced a young Sami artist as the "Young artist of the year". The artists chosen have been emerging talents in different artistic fields, such as art, music, poetry, film, design and dance. The title as "Young artist of the year" also includes a month stay as an artist in residence in Lásságámmi.
The Lásságámmi foundation and Riddu Riđđu festival collaborate on equally strengthening each other's work and contribute to the development of sami- and international indigenous arts and culture in the spirit of Nils Aslak Valkeapää.
Festival director Karoline Trollvik says the following about the collaboration between the festival and the foundation: "A collaboration between our two institutions is important for our festival, for Lássagámmi and not least for the Sami culture. Áillohaš was one of our times greatest Sami artists, and the work on promoting his legacy is important . We are proud to be able to offer our young artist a residence in his home and hope it can encourage their artistic growth and artistic development.
On Febuary 8th Elina Waage Mikalsen moves in to Lásságámmi. Here she brief introduction to herself and her reflections prior to her stay;
My name is Elina Waage Mikalsen. I come from Tromsø and I am 24 years old. I currently live in Kabelvåg where I study at the arts- and filmschool. In the summer of 2015 I was chosen as the Young artist of the year at Riddu Riđđu and it´s due to that I have gained the opportunity to stay at Lasságámmi.
I work in many artistic fields, everything from litterature and photo to sculpture and music. The school I attend is right now in the process of shifting from being a private filmschool to a college, and aims at becoming a learning institution for the "moving pictures». I think this has been an important part of my work because I see myself in the borderline between art and film and find it very exciting to work with film in new ways.
For my stay at Lasságámmi I want to predominantly work on my music- writing lyrics and do recordings. I am the vocalist in the band Blood Forest Family and additionally I have a solo-project where I work with voices and loops. I think I will benefit hugely from the stay because I am easily distracted and need peace and quiet around me to fully focus on my music. And I look forward to walks in the surrounding nature, and to use the sauna!